Whitetail Deer, Black Bear, & Turkey Hunting in Michigan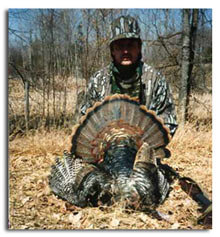 Come get the gobbler! We offer both an excellent spring and fall turkey hunt. Our turkey hunting is done on our private farmlands. We will provide you with lodging and access to the private hunting grounds. The calling will be left up to you, so you can have the full turkey hunting experience.
The spring turkey hunt is a stand-alone hunt. Tags are available over the counter. The spring season begins the middle of April and goes through the month of may.
If you wish to hunt turkey in the fall, you will need to apply for the fall tag, which must be submitted by August 1st. Everyone has drawn in the past, so you shouldn't have a problem. This too can be added to an archery deer hunt.

* You will need to apply for a Michigan turkey hunting license for hunting the fall. For more information on licensing go to Michigan's Department of Natural Resources (DNR) Website: http://www.michigan.gov/dnr
Please contact us for more information on pricing, and available dates for these turkey hunts.
Copyright © 2004 GreenwoodsOutfitting.com. All Rights Reserved.
Website design & hosting by: JZInternet.com [Contact]